"My son's team the Plainfield Raiders (Chicago) baseball team played at Miller Park in Milwaukee in the summer of 2016, hosted by Big League Dream Day. My son's teammates, the parents and all the friends and family that attended the event still talk about the great time that they had.
They got to pitch in the bullpen and take BP where the Major Leaguers hit. They got to select their own walk up music and hear there name announced over the big league public address system. They got to hang out in the big league dugout. Then they played a game on the same field where all their heroes and legends had played before them.
The Milwaukee Brewers were great hosts. Miller Park will always have a special place in our hearts because of Big League Dream Day. My son now plays for the Illinois Hawks Travel Baseball team and would like to play at Guaranteed Rate Field in 2019 and for many years to come"
Gene Kately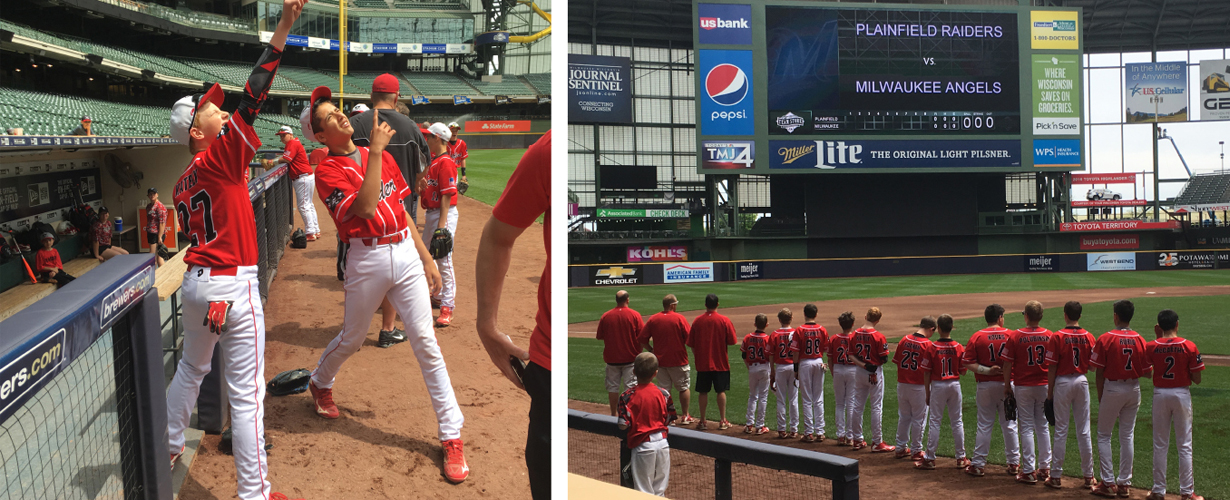 Hopefully, you can see the lasting impression that is felt from such an event and let Big League Dream Day come to your stadium. It will create a love affair with Guaranteed Rate Field and the Chicago White Sox for all involved and build generations of fans.
"The baseball game for the Hitters U14 Baseball Team was an unforgettable moment in time for the boys and maybe even more for the families.  Our team made it an event with a tailgate party prior to and after our game of course. The opportunity to be on the field and play in a stadium as awesome as Miller Park was beyond what words might describe."
John Mahar, Hitters Baseball
"The Chicago Knights baseball team had a blast this past season at the Big League Dream Day event at Miller Park in Milwaukee!
The coaches, players and family's experiences were something that all of the participants will remember for a lifetime. Our team is very interested making a commitment to the White Sox for any games that might be played at Guaranteed Rate Field."
Mike Eul, Coach, Chicago Knights
"Our game at American Family Field was not the highlight of my family's season! Why do I say that? Because my son's father and I separated a number of years ago and it was not until our son played for Coach Todd that we came together as one to rally around OUR son. Coach Todd, "you brought my family together". Thank you for all you did for Will."
Kelly Cullen
"The Franklin Sabers U14 team had a wonderful experience at Miller Park as part of the Big League Dream Day program.  There were many thrills including playing on the major league turf, walking up to bat to chosen music, hearing their names announced, warming up in the bullpen.  Todd from BLDD was easy to work with and helped us through the process of eclipsing our ticket sales goal.  It's a once in a lifetime opportunity for you and your kids!"
Doug Baretz, Franklin Jr. Sabers